Where we are
The islands of Guernsey lie in the bay of St Malo in the English Channel, about 30 miles from the north coast of France and 70 miles from the south coast of England.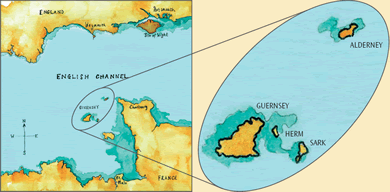 Guernsey enjoys good air and sea travel links.
Air travel
The main links are via London Gatwick airport or Southampton. Do have a look at the Air travel page for further information.
Please note there are no direct connections through London Heathrow.
Sea travel
Well worth considering for competitors and teams, especially with the amazing deal we have managed to secure with Condor Ferries.
Discounted fares are available for Spectators. Please visit the Ferries page
Please visit the sub pages for information on travel to Guernsey – especially the Ferries page