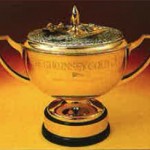 The idea of the Guernsey Gold Cup was conceived during a chance conversation between Edward Fattorini and Richard Ridout. Guernsey had been awarded the Class One World Championship for 1988 and they thought that we should have a prestigious trophy made to mark the event—something to rival the famous Harmsworth Trophy for powerboats first presented in 1903.
Relations of Edward owned the firm of silver and gold medal specialists, Thomas Fattorini & Sons Ltd, in the heart of the Birmingham jewellery quarter. This firm had designed and made the current FA Cup, first presented to Bradford City in 1911 (the previous cup had been stolen.)
Thomas Fattorini, a great grandson of the founder of the business came over to discuss the design and a few months later the Gold Cup was delivered. Edward presented the Cup to the Guernsey Yacht Club to be displayed with other trophies. The first winner was the Toleman Twins in their boat Propellor Shirts in 1987 and in the following years it was won by Roger Fletcher in Follet Cars (1988), Chris Scragg (1989) and Roger Fletcher again in 1990. One condition was that the Gold Cup should never leave the island. An exception was a visit to Earls Court in the year that Guernsey sponsored the Boat Show.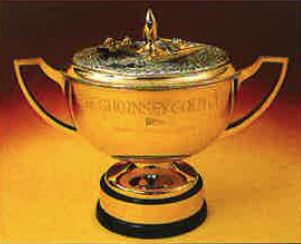 The Guernsey Gold Cup also featured in the popular TV series "Howards Way" although the winners name was never engraved on the trophy.
The Cup was last competed for in 2013 when it was won by "Warpath" driven by Daryl Grady of the USA, the first boat into Guernsey on the first leg of the Venture Cup Prologue.
We are delighted that this year the Guernsey Gold Cup will once again be competed for in the UIM World Championships for Class 3A and 3B. We wish all competitors and teams the very best of luck.